Star Wars - Knights of the Old Republic
Bandon Dast
The Jedi Order was a failure to him.Their teachings, and their doctrine, were flawed and naive. Only with his destined master, Darth Malak, could Bandon find his true, dark path.
Description:
<table>
<tr>
<td>Template Type:</td>
<td>Sith Acolyte</td>
</tr>
<tr>
<td>Character Name:</td>
<td>Bandon Dast</td>
</tr><tr>
<td>Player Name:</td>
<td>NPC</td>
</tr>
<tr>
<td>Species:</td>
<td>Human (Coruscanti)</td>
</tr>
<tr>
<td>Sex:</td>
<td>Male</td>
</tr>
<tr>
<td>Age:</td>
<td>19</td>
</tr>
<tr>
<td>Height:</td>
<td>1.9 m</td>
</tr>
<tr>
<td>Weight:</td>
<td>85 kg</td>
</tr>
<tr>
<td>Physical Description:</td>
<td>Bandon is a tall, slender male Human from Coruscant. He carries himself with an arrogant stride and is known for talking down to those in his presence insensitive to the Force. He wears black and dark-gray padded armor and carries a double-lightsaber. His head is shaven and he has a dark-brown goatee.</td>
</tr>
<tr>
<td>Personality:</td>
<td>He knew he had a great destiny even as a child, and as a result, he always walked and talked as if he was already a great man. Some see him as arrogant, others simply confident and self assured, because most of his boasts can, and are, backed up by his skill. He is very no-nonsense, and when he wants something, he can rarely be talked out of taking it.</td>
</tr>
<tr>
<td>Objectives:</td>
<td>To further the cause of the Sith Armada, through pain of death. To one day surpass Darth Malak and Darth Revan themselves to take the role of Dark Lord of the Sith for himself.</td>
</tr>
<tr>
<td>A Quote:</td>
<td>"A pathetic, pointless display in futility. Just surrender. You are no match for me."</td>
</tr>
<tr>
<td>Connection With Other Characters:</td>
<td>Carissa Onasi's boyfriend, Darth Malak's apprentice, and former student of the Broadsword Jedi Academy.</td>
</tr>
</table>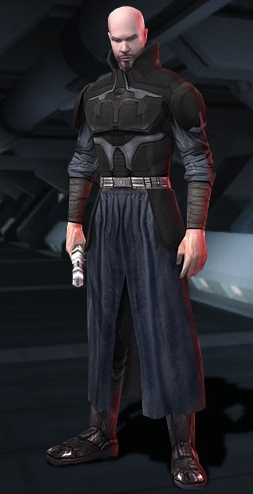 Bio:
When Bandon Dast was accepted for training by the Jedi Academy on Coruscant, he immediately made a name for himself. He was a quick learner, but most jarring for his instructors was his apathy toward their lessons and general lack of respect for authority figures. He was in line to be chosen as a Padawan Learner by Alek "Squint" Squinquargesimus, but then the Mandalorian Wars dragged Alek away, and Bandon was too young to follow his potential master into battle.
Bandon chafed at the thought of waiting until after the war to find a master and become a Padawan. He began to lobby in earnest for the right of progression, claiming, justly so, that he had learned so much already. He somehow became embroiled in a bitter debate with Jedi Master Janiss Welrik in which he accused the Jedi Order of "cowardice unbecoming our cause" for not backing up Revan, Alek, and the other Revanchists, and for letting the Mandalorians crush system after system while sitting back and "doing nothing."
Bandon was relegated to spend the next two years in the service of Master Welrik in her duties as the Guardian of Historical Data. It was a desk job. It was a punishment. So Bandon rebelled once again. He stowed aboard a freighter headed for the Outer Rim, his intentions: to find his would-be master, who was now going by the name Malak, and join the Revanchists in their war against the Mandalorians. En route to the Anoat System, a holovid news report informed everyone aboard the freighter of the fateful Battle of Malachor V, the fall of the Mandalorians, and the end of the war. Bandon was still determined to find Malak and become his apprentice, but he found out too late that it was not to be. Malak, Revan, and the other Revanchist Jedi with the remaining Republic fleet disappeared into the Unknown Regions, and have not yet returned.
Returning to Coruscant, humbled, Bandon pleaded for one last chance to become a Jedi Padawan. He got his wish, albeit with hefty reluctance on the part of Master Welrik. A transport shuttle carried him off to a new kind of Jedi training institution, a kind of last chance for Jedi students deemed too high-risk for further training. While Bandon tried, despite his desire otherwise, to be gracious about this last chance, he felt that the whole thing was a tremendous insult to his intelligence. He knew that the only reason why he had been held back was because of his previous, tenuous connection to Malak. Because the Jedi Order still officially disavowed the Revanchists, despite their victory on Malachor V, Bandon's fleeting mention on Malak's Jedi profile flagged the young Padawan-hopeful as too great a risk to take.
During his studies on the Broadsword, he excelled, as usual, and got the second-highest marks possible in most classes. He was frustrated in every attempt, because it seemed that there was always at least one student for whom a given subject was their one, great strength. In piloting, Erall Diggs was unsurpassed. In fencing, Daken Rao was the top of the class. In hand-to-hand, the class was split between Hokura Fenni and Ven Jagt. In Force Theory, the best one in school was Carissa Onasi. However, unlike the other students whose positions Bandon would just as soon topple, Carissa was a special case. She was, for lack of a better term, radiant. Bandon was smitten.
It was a curse, he knew, for a Jedi hopeful to be in love. There were strict guidelines in place for the past thousand years that forbade Jedi from making strong emotional attachments based on sexual desire. Nevertheless, Bandon was committed. He knew that he could not wave away his desires as if it were a pesky nuisance. Carissa wasn't wrong. The Jedi were. One day, as a Master, he would reveal their love and prove to the council that their millenia-long ban on relationships had to end.
During Astrogation and Space Combat Tactics class, while piloting an Aurek Strikefighter through an obstacle course within the Roche Asteroids, Bandon and several other students encountered an ancient probe droid of unknown origin. The droid opened fire upon their ships and began to actively evade capture. Bandon's ship was badly damaged in a volley of laserfire, and the student suffered moderate-to-severe injuries. He had broken his leg and suffered burns to his abdomen and lower back.
In the aftermath of the encounter, Bandon spent two days in isolation in the Broadsword's medical bay, where he was visited in secret several times by Carissa Onasi. The young woman revealed her trade secret to Bandon. The med techs had no idea she was even there, as she created an elaborate Force Illusion to make them believe they were attending other duties, leaving her and Bandon alone with one another even in a room full of people. Bandon figured out what she had been doing, and she admitted her fault. In truth, all of the brilliant answers she gave in Force Theory class were his own. He was the real head of that class. She didn't even pay any attention to the lessons. She just saw that he was a genius and decided to take advantage of him, and the rest of the class, including the Jedi Master that taught them.
Bandon wasn't angry. He was impressed, and in love. In the waning hours of his last day in the med bay, he and Carissa consumated their relationship in full view of, but completely invisible to, a room full of people.
When he learned, through the Force, that Carissa was accompanying Master Sas'k and several other students on a "field trip" to investigate the probe droid further. Bandon jammed himself with stim paks and pain killers, grabbed his armor, and made a hasty path to meet Carissa at their transport. Bandon was stunned to see that they were accompanying a bounty hunter on this away mission. Bandon spoke candidly with Erall Diggs, a former Revanchist, musing that this bounty hunter, "Aurek" Xan, was a Mandalorian. The two decided to keep a close eye on Xan during the mission, which Bandon was allowed to join only after making a compelling case to Master Sas'k.
After returning from the mission with more questions than answers, another student, Ven Jagt, was exposed to have been a Mandalorian. Jagt gave a passionate tirade about the failures of the Jedi teachings, then executed a thoroughly brilliant escape plan. As much as Bandon was shocked at the revelation and angry about Ven's successful escape, he couldn't help but be impressed at his professionalism in executing a well-thought-out escape plan. Ven was recaptured soon after his escape, his body damaged so badly in the ensuing battle that he could not survive and could barely be identified. Bandon was the first to say "That's not him. He's long gone by now." In a way, Bandon was relieved. Anyone that desperate and skillful deserved to live and fight another day.
In an ambush by a rogue pirate, Sevanna Riis, Bandon, Carissa, Erall Diggs, and Daken Rao were separated from the Broadsword and held for ransom. They were beaten and tormented by Riis and her droid crew until eventually, Master Vadis replied to the pirate's ransom demands. Ko'Dora Vadis said that Bandon and the other captured students were already too much of a liability to be considered worthy of paying any kind of ransom. Riis said that she would kill Carissa, held a blaster to her temple, and Master Vadis would not relent. Bandon demanded that Riis take him instead, but seeing how desperate he was to spare Carissa's life only spurred Riis to push harder. Nevertheless, Headmaster Ko'Dora Vadis said that the students failed their last chance to become a Jedi, and told Riis to do whatever she wanted with the failures.
Not long thereafter, Riis's ship was attacked by an unknown force, boarded, and killed. The students were rescued by an unlikely group, the Sith, led by Master Uthar Wynn. Master Uthar brought them aboard his ship, had their wounds treated, and offered them his counsel regarding their futures. He said that he was willing to drop them off on Nar Shadaa, which was en route to their next destination, if they were interested in parting company. However, he told Bandon that his former master-to-be, Malak, had felt Bandon's presence and dispatched Uthar to collect him. Uthar explained to Carissa, Bandon, Daken, and Erall that the Jedi had grown too insular and ineffective as guardians of the galaxy, as evidenced by their fear of the Mandalorians. Only the Revanchists had the courage to defend the Republic and kill the Mandalore. Uthar offered the students all a place of honor as students at the Sith Academy on Korriban, where he was headmaster. He said the choice was theirs, and left them to discuss their options.
Erall and Daken were hesitant to make any rash decisions, though they harbored no ill will toward Carissa or Bandon for making the decision to remain with Master Uthar and join the Sith. After dropping Erall and Daken off on Nar Shadaa, wishing them well and hoping they would soon reconsider and join the Sith, Carissa and Bandon were brought to the Victus, the flagship of Darth Revan, where they met both Revan and his closest confidante, Darth Malak.